Defend The Wolves

Michi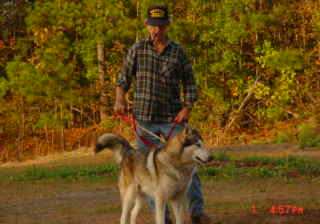 Jim working with Sage on leash.
Volunteer Resources
If you are interested in volunteering, we will soon be providing information on Rescues in different areas who need help.
Adoption Sites
We have had a number of requests on information for onsite adoptions. We will be providing these linkls as soon as we can confirm everything.
If you have suggestions for information you would like us to add to our site please let us know.
Our News
Our Most Recent Rescue Story


Other than recovering from a nasty cold, today was no different from any other Saturday morning I have experienced. It was Beautiful, sunny, and very nice with just a touch of autumn in the air. That all changed a little after 12:00 noon. The phone rang and on the other end was Colleen Meeks. Colleen is a very special veterinarian. We used for years before she sold her clinic. She has taken care of many of the wolves and wolf/dogs that have been with us over the years. I was a bit surprised by her call and when I heard her voice I knew there was a problem. She said that there were two wolf/dog hybrids at the Clinic she was filling in at down south of us a bit. She wanted to know if we could rescue the male. A male who appears to be about 6 years old and very beautiful, a very high wolf blood creature. My first thought was to say," I am sorry Colleen, but we just have our hands so full it isn't possible and besides, we do not do wolf/dog rescues any more. I am sure she heard the hesitation in my voice because I heard something in her voice as well…It sounded like the desperation I had felt in my own voice at other times just like these. I told her we would head that way…The wolf/dogs a mated pair were both very beautiful. But there were some complications. Animal control had brought these animals in yesterday. The female had a prolapsed uterus which had been reported to have been in this terrible condition for two months. The male, was standing his ground as is the case most often. He had to be captured by a neck catch device. Earlier this morning the animals had been ordered put down. They had even been sedated in preparation for this heartbreaking event. We arrived at the Clinic and went inside. The female was the only animal still there and true enough she was prolapsed very badly. Shortly after our arrival the animal control team arrived with the male. We went out to have a look at him. He is beautiful, though still feeling the effects of the drugs given earlier. Fortunately for him, Dr. Meeks along with the Animal Control team and some other staff members We would be able to save them from certain death. But things are not always so easy. The female was still out. She was unresponsive and soon she crossed over. She breathed two deep breaths and it was ended. She would suffer no more. The male is as I write this, in an isolation enclosure here with us. He is finally starting to come around and trying to stand up. We have hopes that he will survive, though the sadness in his heart will certainly stay with him for a very long time. We did not have space for this beautiful creature. We could not afford to give him a home. We had many reasons not to do what we did. We had only one to DO what we did. That reasons was a simple one. We had no choice .. we could not let him die. So it has been a very sad day. These animals once belonged to a wolf/dog breeder. Now she will no longer bear babies for profit. She has crossed over. He will no longer be used to sire babies for profit. As soon as he is recovered he will be neutered. Colleen has offered to do this at no charge to us. If it were not for the efforts of People like Colleen, the Animal Control Team and other staff members at the clinic…there would have been two deaths this day. Please….Please…if you know someone who is considering buying a wolf/dog…..please ask them not to. Ask them to spend the money they would spend buying one of these animals and raising it by supporting one that is already in a rescue. All breeders are not bad people, and I would never ever want anyone to think that. The problem is this. When these animals are sold, where they start out and where they end up may not be the same. How many people who are NOT responsible breeders are buying these special creatures to breed for profit. And often we think, well I can buy one and save it from harm….and yes, perhaps that is true…But if we stop buying then we end the very heartbreaking problem that exists. So I ask you to help one animal. Just one animal. Help that animal that is already in a rescue or on death row, rather than buying a baby to add to the rescue list. These animals are not pets. They can be very difficult to deal with, and you can bet, that the greater percentage of those who survive will wind up in a rescue. And more than likely a rescue that is already stretched to the limit and bordering on over crowded. Together we can all make a real difference, one animal at a time. Jim Windwalker Director/ Defend The Wolves http://defendthewolves.org